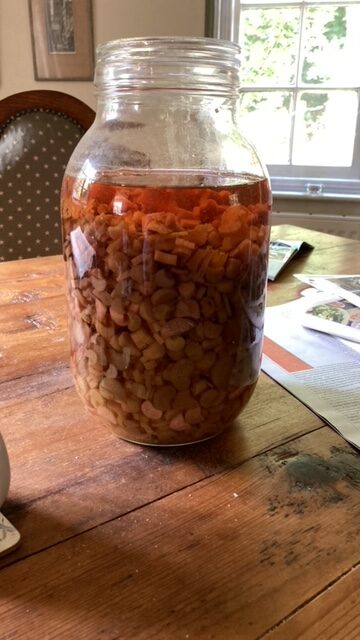 Dear friends,
The last days of summer are here and what an Indian summer it has been!
The weather will be turning and we are looking forward to harvest with rosehips and haws nearly ready to pick. Sloes will need a bit longer and blackberries, apples and plums are nearly over. The picture today is of my rhubarb vodka that has been stewing for several months. I am looking forward to sampling it one cold winter evening.
Only those of you who have signed up to receive these notes via the church website will be receiving them for the next three weeks: I will not be able to access my computer and data protection rules prevents me from copying all your email addresses to my mobile phone. Please follow the link below if you would like to keep receiving these notes. It's great that more than 50 people have already signed up in the last year.
Just one person has informed me that they would like to receive these from my personal account and, having received their permission, I will forward the notes to them as they go out.
God bless,
Dineke van den Bogerd
Post expires at 12:53pm on Monday September 16th, 2024