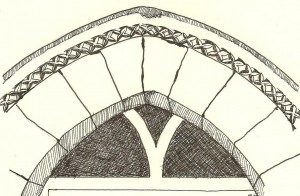 First indications are that a church was built in the twelfth century, not a Parish Church (Ecclesia) but a Chapel (Capella). People who lived a long way from the 'Ecclesia' used the 'Capella' on ordinary occasions, but they paid their tithes and made their offerings at the 'Ecclesia'. Capel was originally in the Diocese of Winchester, and during the term of office of Henry de Blois (Bishop of Winchester, 1129 -1171), Capel Church was first mentioned when the advowson (the right to grant a benefice) was transferred by the Bishop to the Priory of St. Pancras at Lewes in Sussex. It was then known as Capella de la Wachna or Ewekene.
In 1270 the Church is referred to as the Church of Ewekene – probably after a grant of land by Maurice de Ewekene. In 1282, Henry de Ewekene became the first recorded priest of the Church.
In 1334, Dorking cum Cappella was transferred to the Priory of the Holy Cross at Reigate, and Capel was served by a priest appointed by Reigate. At about this time it is probable that the 'Capella' was upgraded to a Parish Church, and was dedicated to St. Lawrence (ecclesia Sanctii Lawrencii de Cappella). In 1536 Thomas Cromwell abolished holy and feast days between the beginning of July and the end of August to avoid interruptions to the harvest. It was probably about this time that the feast day of St. John the Baptist was chosen (June 24th) and the name continues to this day. Certainly there was still a statue to St Lawrence in 1540.
After the dissolution of the Priory at Reigate in Henry VIII's reign the patronage of the Living passed into private hands, first to Lord Howard of Effingham, father of Charles Howard who defeated the Armada, and then to the Cowper family of Temple Elfold (Elfond). After passing through many other hands the advowson was granted to Charles Webb of Clapham (died 1869), and it was the Webb family who left six Almshouses in Trust to the Parish, which are still kept occupied. Capel Parish passed from the Diocese of Winchester to that of Guildford when the latter was created in 1927. The patronage of St. John the Baptist was in the hands of the Lord Chancellor up to 1998 when it was taken over by the Diocese of Guildford.
More can be read here on the British History Online website.