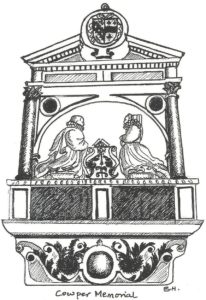 The oldest and probably the most interesting monument is in the Chancel. It shows two small figures from the time of Drake kneeling at prayer with a desk between them. They are John Cowper and his wife. John Cowper, who died in 1599, was Serjeant-at-Law and an early patron of Capel Church. He was the first of several generations of Cowpers to live at Temple Elfold and a large marble monument to one of his descendants, Robert Cowper (who died in 1720), is also to be found in the Chancel.
A later patron was Charles Webb of Clapham who died in 1869. Memorials to him and members of his family are to be found in two windows in the North aisle and one in the Nave.
There are memorials to two Vicars. One at the east end of the Nave is to the Rev. T. R. O'Fflahertie who served continuously for 46 years, first as Curate (1848-1868) and then as the first Vicar of Capel; the other, in the Chancel, is to the Rev. A. J. W. Howell (Vicar 1895 -1917) and his wife. Also in the Chancel are brass plaques commemorating past choir members J. Reeves (died 1918), Dr. H. W. Clarke (died 1943), H. Doody (killed in France 1918), Philip Toogood and Mary Snell who was Church Organist 1941-1949.
Two families in particular have been major benefactors to the Church during the 19th and 20th centuries. One is the Schudi (Tschudi) Broadwood family of Lyne who are commemorated in a stone tablet in the north aisle and the east window of the Church. This window was restored in 1994 due to the efforts of members of the congregation and support from Friends of the Church. The other family are the Mortimers of Wigmore, who are remembered on a large brass on ebony memorial in the north aisle, in a window in the west wall, and recently on a stone tablet in the Chancel. The organ was rebuilt and enlarged in 1896 also by the Mortimer family.
Near the South door there is a colourful marble mosaic monument to Rawson William Rawson, KCMG, Governor of the Bahamas and Windward Isles. He died in 1899, aged 87, and is buried in the Churchyard.