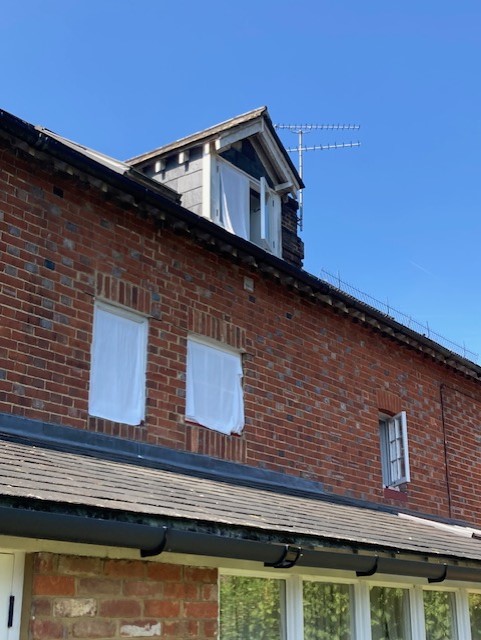 Dear friends,
Most urgently, please note that due to poor health of our vicar, the service in St Margaret's tomorrow has been cancelled. All are welcome to come to café church in the garden of the Crown in Capel at 10:30, where Bob and the Band will be making beautiful music and challenging our pre-conceived ideas. The order of service (menu) is attached.
Please remember Rev Liz in your prayers as she has had a rough time of it this summer and we pray that she will be restored to full health soon.
Many thanks to all who have so far signed up to receive these notes via our website. If for any reason you can't sign up this way (see foot note) please let me know by return email so I can make sure you keep receiving the notes after I close down the current system by the end of this month. If in doubt please get in touch.
I hope you can all stay cool in these record temperatures.
The picture today is of the back of our house (the open windows are next door's). For many years now I have followed the South American system (inspired by novels of Gabriel Garcia Marquez) of keeping cool by closing all windows, doors and curtains and covering windows with white sheets before the sun hits the house. Only when the outside temperature falls below the inside (around 7pm at the moment) do I open everything so the house can cool down.
Do try to enjoy the balmy evenings before autumn settles in.
God bless,
Dineke van den Bogerd
Post expires at 9:43am on Monday September 9th, 2024