ECO Church is an award scheme for churches in England and Wales that want to demonstrate that they care for God's Earth. The PCC of Capel and Ockley has committed your church, St John the Baptist, to the scheme, while St Margaret's, Ockley have set out on their journey in Sept 2018. Find out more about the scheme on www.ecochurch.arocha.org.uk
18/03/2019: St Margaret's Ockley on their journey towards bronze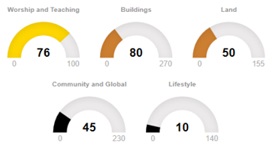 18/03/2019: St John the baptist Capel Beyond Bronze Award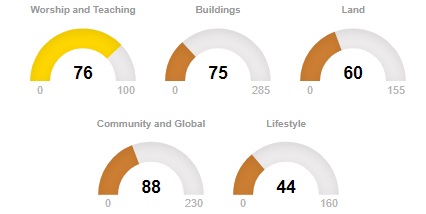 ECO News
In Mole Valley, we can recycle paper, plastics, glass and metals in green bins. Batteries, textiles and small electronics can also be left out with the bins. Visit molevalley.gov.uk for complete guidelines on what you can recycle, or call 01306 885001. Post expires at 6:17pm on Wednesday May 13th, 2020
Read More »
---
If you have a perfectly good item that you can no longer use or simply don't want, don't throw it away. Instead see if you can: – Sell the item online or through local publications, or get together with friends and get a pitch at a car boot sale. – Give it to a friend who needs it. – Donate it to a charity shop where it can be sold to raise money for a good cause. – Buy second-hand where you can. Post expires at 6:17pm on Wednesday May 13th, 2020
Read More »
---
Reducing waste is is the best way to minimise our impact on the environment. – Avoid buying items you don't need. – See if you can repair damaged items, instead of throwing them away. – Avoid items with excessive packaging. – Don't buy single-use bottles of water. Instead, bring a reusable bottle; visit refill.org.uk to find places where you can refill your bottle for free, or download the 'Refill' app for when you're on the go. – Hang washing outside to dry rather than using a tumble dryer. Post expires at 6:17pm on Wednesday May 13th, 2020
Read More »
---
Want to buy organic but find it's too expensive? Consider buying organic for the fruits and veg below. When not grown organically,this 'dirty dozen' has some of the of the highest concentrations of chemicals. – Apples – Strawberries – Grapes – Celery – Peaches – Spinach – Sweet bell peppers – Nectarines – Cucumbers – Cherry tomatoes – Snap peas – Potatoes Post expires at 1:18pm on Tuesday May 12th, 2020
Read More »
---
5 tips for reducing your carbon footprint: 1. *Dial it down*. Moving your thermostat down in winter and up in summer could save about 2,000 pounds of carbon dioxide per year. 2. *Turn it off. *Make it a habit to turn off the lights when you're leaving any room for 15 minutes or more. 3. *Use cold water*. Using cold water can save up to 80 percent of the energy required to wash clothes. 4. *Buy local.* It's been estimated that if we try to buy food locally, the country could save over £2 billion pounds in congestion and environmental costs. 5. *Recycle.* We can leave out plastics, glass, paper and even textiles and small electrics to be collected for recycling. If you have questions about what you can recycle or how to do it, contact Mole Valley Council at 01306 885001.
Read More »
---
Using water efficiently means that we can reduce the amount of water being taking out of our rivers and aquifers, especially as demands are rising. This helps protect our water resources and the wildlife that live there. Here are a few tips for saving water: * Turn off the tap while you're brushing your teeth * Only wash full loads of laundry * Drink tap water instead of bottled (use a refillable bottle!) * Scrape rather than rinse dishes before loading into the dishwasher * Keep a pitcher of water in the fridge as opposed to letting the faucet run until it's cold * If your toilet doesn't have dual flush, consider putting a brick in the cistern to use less water (most toilets use more than they need to!) Sutton and East Surrey Water provide free water saving packs to consumers. Visit www.savewatersavemoney.co.uk<www.savewatersavemoney.co.uk>, or call 0345 371 0728 for information. More tips are available at www.waterwise.org.uk<www.waterwise.org.uk>.
Read More »
---
Did you know that lots of wrapping paper we use can't go into our recycling bins? This is particularly true of paper with foil or glitter decorations. Try recyclable or biodegradable wrapping paper this Christmas. Or why not try good old fashioned brown paper from any stationery shop or post office finished off with coloured ribbon.
Read More »
---
The Autumn and Winter months are the most important months for hedgehogs to find sufficient food to put on enough weight before hibernation. So always make sure to put out food at this time of year. (Typically hedgehogs hibernate from late December/early January until late March). Hedgehogs are active during the night so the best time to put out food is just after dusk when they are starting to search for food. Meat-flavoured (ie: not fish) dog and cat food should be left out together with a handful of dog or cat biscuits and some mealworm. Hedgehogs are lactose intolerant so milk can make them very ill and should never be offered. Instead put out a dish of fresh water each night. Feeding hedgehogs should only be supplementary to their natural diet which is made up of a variety of bugs, grubs and slugs. It is therefore ideal to try and encourage more insect life in the garden by planting native plants and shrubs, creating a log pile, putting in a bug hotel and leaving an area of garden to be wild and overgrown. St Tiggywinkles are open 24/7 to provide advice and help. Tel: 01844 292292.
Read More »
---
This Christmas, why not choose a charity gift from Christian Aid to give to your loved ones. It will bring a smile to their face and to someone further afield who needs a little bit of help from a friend. A few examples: £9 buys a child a school bag with books and pens, £13 pays for fishing training and £15 donates a pair of hens. These and many more useful gifts can be found here<charity-gifts.christianaid.org.uk/>. You will receive a voucher representing your chosen gift to add to someone's stocking.
Read More »
---
The best way of making our oceans plastic-free is by not letting the rubbish get there in the first place. One source of plastic is milk containers. Even though these are recyclable, evidence suggests that this only happens with a small proportion. They are not easy to avoid but one way is to order from your local milk man. Glass bottles are used on average 25 times and then recycled into new glass bottles. Perhaps a little more expensive but surely we're worth it!
Read More »
---
Most banks have no rules as to who they deal with and what projects they fund as long as it is legal. There are a few that have higher standards. Look up your bank in the list and see how they rank. Ethical banks put the charges where the costs are so you pay a small monthly fee but it puts the mind at rest to know that they don't invest in weapons trading for example. This is just one of the things you can check on the following website: www.thegoodshoppingguide.com
Read More »
---