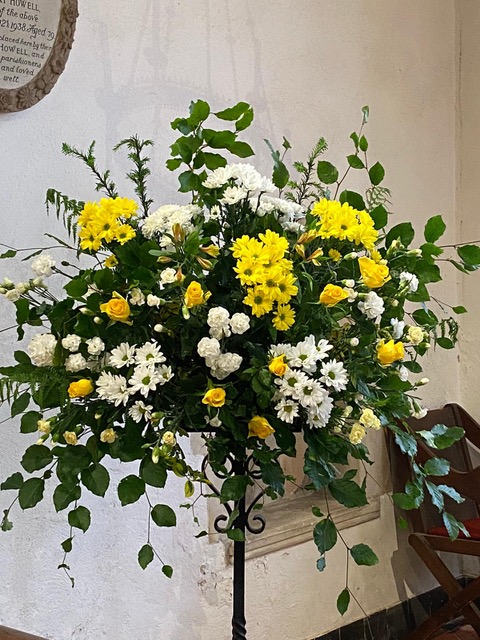 Dear Friends
I hope you have all had a lovely week in the sunshine. I now look after my youngest granddaughter on a Thursday, so have had a lovely time watching her enjoying all the sights and sounds of a sunny June. Mind you, her favourite activity is watching our Labrador – Wellington, who she's thinks is the funniest thing on the planet. Luckily Wellie loves her too, and being only 8 months old she's not yet of an age where she can really harass him. Her joy in discovering everything around her reminds me that we shouldn't take any of it for granted either, we may have seen it many times, but all of nature is still a wondrous sight.
Rev Liz, and Doug are taking a well earned break from Monday until 12 July, so we wish them a wonderful holiday and may they come back refreshed in both mind and spirit. Graham Everness and Martin Gilpin along with others from both our churches are filling in for the next few weeks, a huge thank you to them for agreeing to take services, we look forward to welcoming you back to our churches.
I'm sure you will all join me in wishing Jo and Graham Hunt warmest congratulations on their marriage which takes place today (12 June) at St Margaret's, may they have a long and very happy life together.
Tomorrow there is 10.30am Cafe church at Capel and 9.30am Holy communion at Ockley. We also have a church tea at Capel in the afternoon 3-5pm, so do come along and join us for what promises to be a sunny afternoon.
Talking of church teas, St Margaret's will be hosting teas on 4 July, 1 August and 5 September 3-5pm. This is a new venture for Ockley so please do support them.
You will also be pleased to hear that the Pavilion Cafe is returning (subject to covid regulations) and hopes to restart on 30 June. The Cafe will be open as normal from 9am to 12noon serving coffee and cake and on the last Wednesday of the month the ever popular bacon butties.
As normal I attach this week's readings, weekly sheet and the bishops sermon this week given by Archdeacon Martin. You can find the Youtube video of this sermon here:
https://www.youtube.com/watch?v=IdT6ELw2b7U
The weekly sheets have a number of 'dates for your diary' – do take a look, and mark them on your calendar.
Lastly, our photos of the week are of the beautiful flowers in Capel church for the funeral of David Collinson, may he rest in peace and his family feel the love and care of the Lord at this time.
With love and prayers
Debbie von Bergen
debbievonbergen@icloud.com
07774 784008