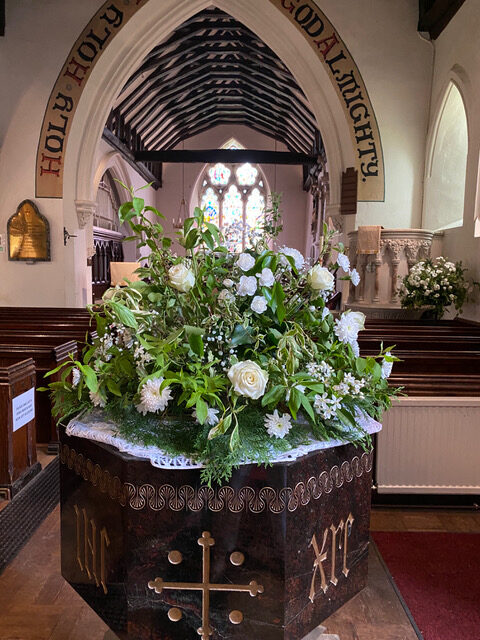 Dear Friends
At last the warmer weather has arrived. I've spent this week gardening and enjoying our daily walk without a coat!
We have a celebration service in Capel today (Saturday) for a couple who will be getting married in Alaska later, but are having a service of blessing here first. Joy, Betty and Helen Berry have done wonders with the flowers, do pop in and have a look. I've attached a picture of them as our photo of the week.
Tomorrow and Bank holiday Monday sees more of our church teas at Capel 3-5pm. These will be served outside as the weather is forecast looks to be lovely. We have a few plants for sale, and string bags to take them home in. Do feel free to bring any of your own plants that are excess to requirements (no tomatoes!), come and have a look, enjoy a cup of tea and a slice of cake. If you've had your second vaccine recently we can also laminate your vaccine card for you, this will keep it looking pristine just in case we are asked to show them in the future. I will be there both afternoons with our laminator and will happily do any that you bring – there is no charge for this.
There are more church teas at Capel on 13 June, and they will continue throughout the summer. If you feel you could give up an hour or two to help please sign the sheet on the table in church.
There is a new market starting next Saturday (5th June) in Capel every two weeks from 8.30am to 11.30am outside the Crown. There will be fruit, veg, cheeses, organic herbs and spices, dry groceries, meat, and dried fruit. The Crown will be open for coffee and cake on these mornings, so come and do your Saturday shopping locally!
Thank you to the two very generous donors who have added to the church path fund in Capel. The fund is now up to £1,087 (including gift aid), which is wonderful. We need approximately £10,000 to do all three paths – that is the path from the Lych gate to the church, the path from there to the south door (normally used by brides) and lastly, the path from the church through the churchyard to the burial ground. If anyone else would like to contribute, you can always give me a cheque made payable to Capel & Ockley PCC or pay by bank transfer into our account Sort code: 09-01-53 Account number: 89053287, please mark your donation with your name and 'path'. Thank you.
I have also registered our PCC as a possible recipient of a £1,000 grant from Ecclesiastical's 'Movement for Good' campaign. It would really help our cause if you would click on the link below and register your support. The link will take you to the right page, then just scroll down and click on' nominate a charity now'. The next page will already have been populated with our charity number so it just needs you to fill in your personal details. Thank you. movementforgood.com/index.php?cn=1132153&ct=church
I attach the weekly sheets, this week's readings and the bishops sermon which is this week given by Paul Davies the Archdeacon of Surrey, who looks at his attempts over the years to define what the trinity is. You can see the Youtube video here: https://www.youtube.com/watch?v=IjdxHt_rnWE&t=6s
With love and prayers
Debbie von Bergen
debbievonbergen@icloud.com
07774 784008