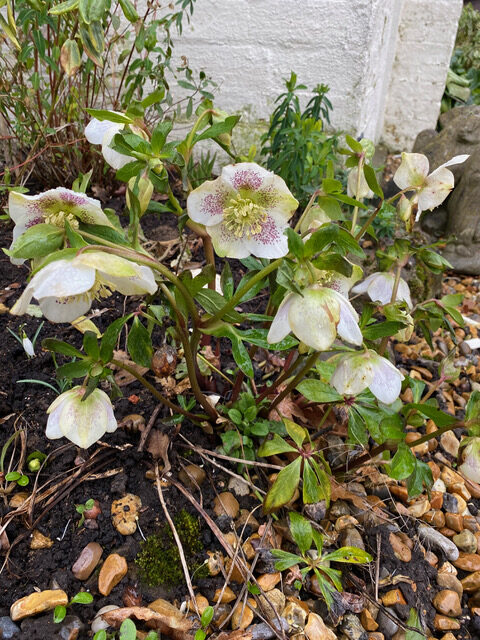 Dear friends
Welcome to Lent! I hope everyone enjoyed their pancakes on Tuesday, we had the traditional lemon and sugar ones this year – one forgets how delicious they are.
This weeks online service can be found here:
www.capelandockleychurch.org.uk/2021/02/20/first-sunday-of-lent-sunday-21-february-2021/
Thank you to Rev Liz, James Burt and Sue Partridge who I understand stepped in at the last minute. If anyone would like to do the readings in a future service do let me know and I'll pass your name on. You can film it at home, James is very good at talking you through how to do this.
The service features Bishop Andrew's sermon for the week, the transcript of which is attached to this email along with our usual weekly notes. You can watch this and other sermons given by our Bishops at the diocesan Youtube channel, which you can find here:
www.youtube.com/results?search_query=guildford+diocese+youtube
Our Lent bags are now available in both churches, please do pick one up for yourself or a friend or neighbour. They contain a couple of lovely booklets about Lent and Easter, a Palm Cross, a Lent prayer and a couple of little treats.
Monday evening sees the start of our Lent course 'Creation Matters', do please let me know if you would like to join in and haven't yet put your name down.
Suzanne Cole is very grateful to everyone who responded to her request to send in your 3 favourite things that you will do when lockdown ends, but if you haven't yet done so please email her on editor@capelandockleychurch.org.uk . She's preparing next months InSpire magazine at the moment so would love to add a few more, and if you are happy to do let her know if you've had your vaccine too we can create an ever growing list of names that represent the hope we all have of eventually returning to normal.
Lastly, another plug for our bids for Surrey's new 'Your Fund', which has £100 million to invest in capital projects over the next 5 years. Ockley has put down their new lavatory and lighting and Capel has registered the paths around the church which are in a parlous state at the moment. Please would you take a few moments to go on line and click the pink 'agree' button as the more support we have for these applications the more likely we are to proceed to the next stage. Ockley's can be found here:
yourfundsurreymap.commonplace.is/comments/601a897788c74e00368cee66
And Capel's here:
yourfundsurreymap.commonplace.is/comments/601d53028eddfb2c7307dd84
Thank you to those of you who have already done it, the more 'likes' we get the better!
The week's photo is a picture of Hellebores which are flowering so beautifully at the moment.
With love and prayers
Debbie von Bergen
debbievonbergen@icloud.com
07774 784008
Please do let us know if you would rather not receive emails from us, or alternatively let us know if there is someone who would like to be added. We will never share your details with other organisations