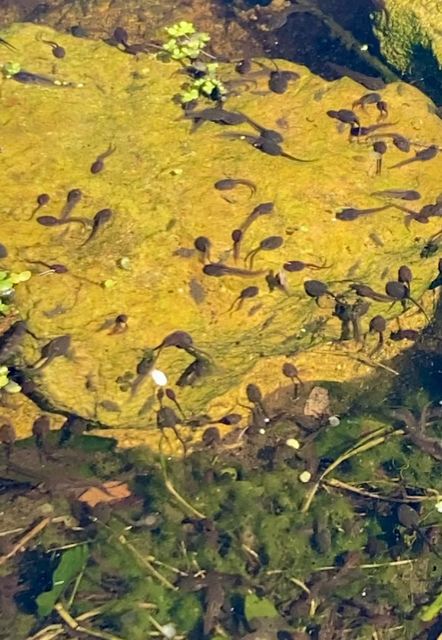 Dear friends,
Tomorrow is an important date in the life of our churches: the Annual Parochial Church Meeting (APCM). The accounts and annual report are attached. There will be some printed reports available but if you can bring your own (electronically using a tablet or smart phone or printed out) that would be most helpful.
Yesterday I met some friends at the Extinction Rebellion manifestation in London. It was a great event, very well organised and very peaceful, with some inspired speakers. I met many people I know from the Guildford Diocese and other organisations. Our group was in front of the DEFRA offices, highlighting the plight of our rivers and seas (and everything that tries to live in them) and other urgent issues that are the responsibility of DEFRA.
With the pictures we continue the spring theme with tadpoles in the pond and sloes on a walk.
Happy Earth Day and God bless,
Dineke van den Bogerd
Please Note: These emails come from my personal account. In order to strengthen the Church' data protection process, we would prefer you to subscribe to receive them from our website.
This will give you exactly the same content but you control directly which publications you would like to receive and stop when you no longer wish to receive. Also, the more of you sign up that way the less admin will be required from volunteers. Just let us know when you have signed up for the different publications and we will take you off all personal mailing lists.
Click on the link to subscribe: Subscribe – The Parish of Capel and Ockley (capelandockleychurch.org.uk)<www.capelandockleychurch.org.uk/subscribe/>
Post expires at 11:43am on Monday April 22nd, 2024