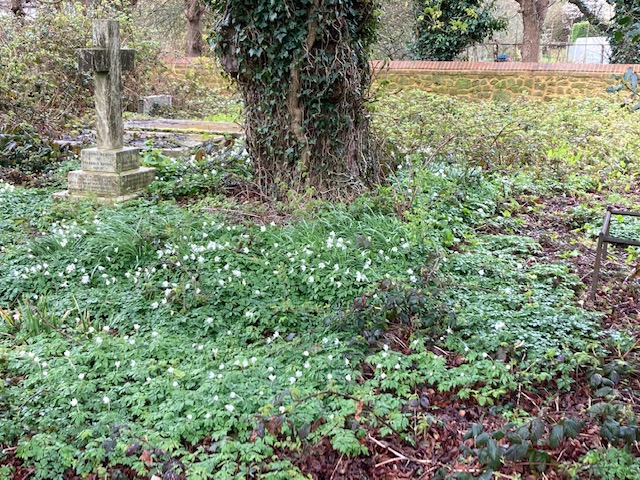 Dear friends,
Attached pictures are of a modest but very exciting subject: wood anemones (windflower). These humble plants usually occur in ancient woodland sites and the fact that these are growing in the St John churchyard means that they have been around for a very long time indeed. Wood anemones only propagate via their root system. They do not produce seed, which means they do not travel far. A very precious find indeed! Find out more about this spring flower by following the link below:
Wood anemone (Anemone nemorosa) – Woodland Trust<www.woodlandtrust.org.uk/trees-woods-and-wildlife/plants/wild-flowers/wood-anemone/>
Shortly you will find at the back of our churches collection boxes for candlewax that is left over. Somebody is collecting wax to make into candles that are used at the warfront on Ukraine. Please collect any wax you have and bring to church. More details to follow soon or ask Helen Burt for more info.
God bless,
Dineke van den Bogerd
Please Note: These emails come from my personal account. In order to strengthen the Church' data protection process, we would prefer you to subscribe to receive them from our website.
This will give you exactly the same content but you control directly which publications you would like to receive and stop when you no longer wish to receive. Also, the more of you sign up that way the less admin will be required from volunteers. Just let us know when you have signed up for the different publications and we will take you off all personal mailing lists.
Click on the link to subscribe: Subscribe – The Parish of Capel and Ockley (capelandockleychurch.org.uk)<www.capelandockleychurch.org.uk/subscribe/>
Post expires at 11:42am on Monday April 15th, 2024