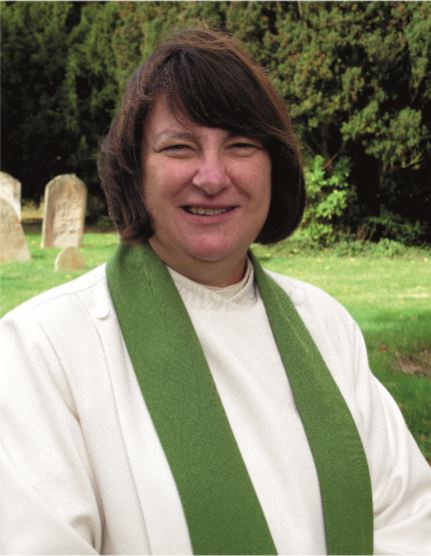 Liz's letter
I hope you had a happy Easter and enjoyed the fine weather. We certainly did at home as we have enjoyed some family celebrations and were able to eat outside. This was particularly helpful as a certain little puppy was born and has taken over our dining room! Our lovely dog Ruby had a planned pregnancy but quite unusually for a large dog conceived only one puppy. This led to some birthing issues and post natal care in the form of hand rearing for the first five days. Ruby has now taken over her pup and both are doing very well I am pleased to report. Puppy is staying in the family so we have an exciting journey ahead. It has though been a very steep learning curve and plans to breed certainly did not go exactly to plan, despite careful consideration and preparation. While writing this I am hoping that soon I too will be able to sleep through the night once more!!
As we consider the Easter story and the resurrection appearances that took place which we remember through this month's 'Sundays of Easter', things certainly hadn't gone as expected for Jesus' friends as they thought he had been laid to rest in the tomb. The wonderful resurrection appearances on that first Easter Sunday and to others in the days and weeks that followed convinced his first disciples who were initially terrified on this wonderful but unexpected turn of events, that the Lord Jesus had indeed risen from the dead. The rest as they say is history but the gospels do stress that people received the news of Jesus' resurrection in different ways. The disciples thought it was an 'idle tale' when the women discovered the empty tomb, until they themselves discovered the truth for themselves. Famously Thomas told the disciples that until he saw the marks in Jesus' hands for himself he would not believe. Jesus then obliged! A mix of joy and terror accompanied these appearances until Jesus breathed his peace upon them and opened their minds and hearts so that they could understand what was going on.
I myself have been reading a newly published book by Sam Wells, a scholar and author who is the Vicar at St Martin in the Fields in Trafalgar Square. He also happens to be married to our own Bishop of Dorking, Jo Bailey Wells. I always enjoy his books as he writes so beautifully and profoundly on Christian theology. This latest one 'Humbler Faith, Bigger God – Finding a Story to Live By' is a book for seekers, doubters, questioners, and those who wonder what faith might mean in these days. I would like to read this book with any who might consider themselves in any of these categories; particularly the doubters!! Will you join me in an informal reading group discussing the arguments put forward by this book?! It seems to me that we need to be discussing the challenges that faith brings when all around us things are not as we would expect. Is the resurrection an idle tale or did it really happen? Yes its an age old conversation but will you join me when we feel so powerless in the West witnessing Russian aggression in Ukraine? By the way I hope you like the blue and yellow knitted flags adorning the yew tree in the churchyard?! Anyway, have a think and email me liz@hostmyserver.co.uk  or telephone 01306711260 if you would like to join my reading group. In the meantime may God's peace be upon you all!
With all my prayers and blessings
Rev Liz
Post expires at 2:53pm on Wednesday April 19th, 2023