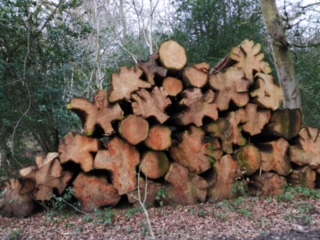 Dear friends,
As I write this the sky outside is slate grey with a drizzle falling as it has been for most of the week – such dreary weather requires a concerted effort to overcome the gloom, but as a wise woman said to me this morning, the thing is to look for the little things, the signs of spring and warmer days that are all around us and cherish each little spark. Many of you I know are struggling with all sorts of difficulties, bereavement, illness, job losses, family or financial worries, please don't feel you are alone, we can pray for each other in this wonderful community and know that someone else cares about how you are feeling.
Lent started on Wednesday this week, so one last reminder that Newdigate church is running an online Lent course over the next 5 weeks beginning on Monday at 8pm. The course is on 'unanswered prayer' . A number of our church community have signed up, so if you would like to join in as well do email David Newbery who is co-ordinating it on newberyda@gmail.com <mailto:newberyda@gmail.com> I look forward to seeing you there! If you would rather not join a course but would like to receive a daily email, the Church of England is doing a daily Lent reflection which can be found here: www.churchofengland.org/embracingjustice
The awful news from the Ukraine continues to be uppermost in our minds, so I have attached the lovely prayers issued by the Archbishops of Canterbury and York, there are also hard copies in our churches, our thoughts are with the people of the Ukraine whose world has been turned upside down and who are living with daily violence and death all around them.
If you would like to do something on a practical level as well, Leigh De Souza is collecting baby clothes, warm coats, baby food etc which will be taken on Tuesday to Hungary to help the refugees. If you would like to donate anything the items need to be with Leigh by Monday evening at the latest.
Also, the World of Roses is donating 100% of the sales proceeds of the famous rose 'Peace' in the month of March to charities directly supporting the people of Ukraine. Many of you will know the Peace Rose, which is a beautiful pale yellow rose edged in pink which was created in 1945 to celebrate the end of the Second World War, it also has a lovely scent.
Our services tomorrow are:
9.30am Matins Ockley
10.30am Family Communion Capel.
I look forward to seeing you there.
Lastly, the photos of the week this week were kindly sent to me by Sally Wyborn.
With love and prayers
Debbie von Bergen
debbievonbergen@icloud.com
07774 784008
Post expires at 1:42pm on Sunday March 5th, 2023