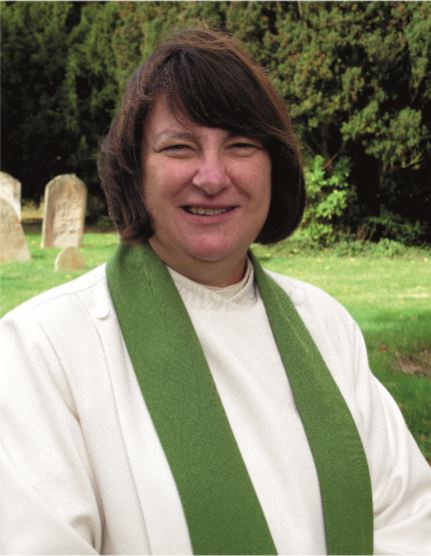 So this month begins on a strong note with Ash Wednesday. The day before is of course one of my most favourite days – Shrove Tuesday – or Pancake Day! Oh dear I am hoping to stick to my diet for the next six weeks before Easter and here I am already anticipating pancakes…. anyway I digress, back to Ash Wednesday!
Ashes are an ancient sign of penitence which became the custom from the middle ages as a way of marking the beginning of Lent. By way of preparation by the clergy it involves burning palm crosses from last year and mixing the ash with oil. Have you ever tried frying last year's palm crosses in a frying pan?! A rather mucky business to be honest! Luckily these days you can buy ready made ash.
This custom of 'ashing' is not something I knew about until I attended a church that practiced it but now I know it I actually rather like it! Yes it can look a bit like you haven't washed your face with a dirty grey mark on your forehead. Yet it is the sign of the cross marked in ash along with the immortal words 'Remember that you are dust, and to dust you shall return. Turn away from sin and be faithful to Christ'. It indeed acts as a symbol of our mortality and as a sign that we intend to move away from those things we know are not good for us and to begin again. Another fresh start! Something that has always rather put me off Lent is the rather austere practices that have been associated with these six weeks of preparation before Easter. I'm not good at austere! One of which is the habit a lot of people seem to have of choosing to give up chocolate or similar treat during this time. As I said I hope to use the time as a bit of personal discipline I know, but on my diet you can eat treats! I have said it before I know but I like to think of Lent as not so much giving things up, well not good things anyway, but of doing something different particularly in a giving way that I don't normally do. A sort of adding something to my life during Lent which will bring life in the fullest sense.
Later on this month we will be filing our churches with Spring flowers as we celebrate Mothering Sunday so I hope you may join us at one of our services that day. Posies of flowers are given to all and left in our porches for you to pass on to someone you know who might appreciate it. So I wish you a good Lent and please do join us on Ash Wednesday at 11 o clock in St John the Baptist if you care to join us in a meaningful start to the season. Study wise you may like to join an online course run by St Peter's Newdigate on the subject of unanswered prayer (details below). Each session stands alone and will cover some of life's most difficult questions. Please see details below.
As always my love and prayers
Revd Liz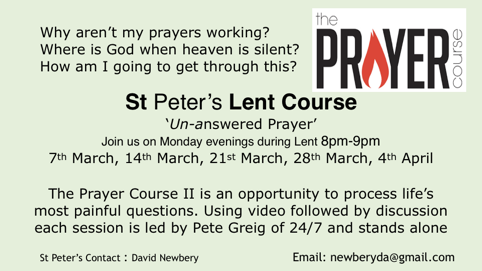 Post expires at 6:24pm on Thursday February 16th, 2023