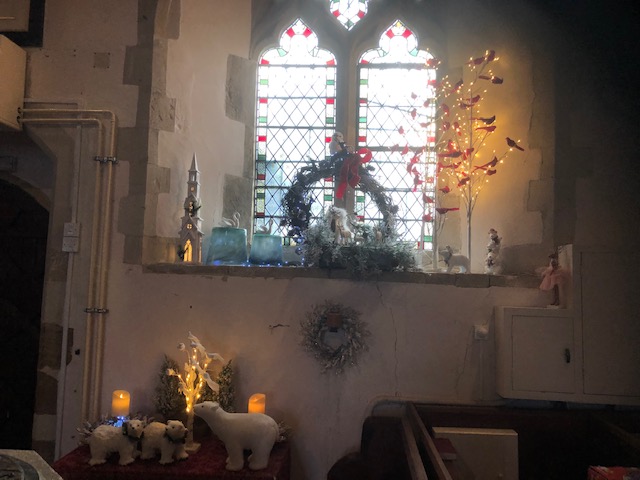 Dear Friends
Happy New Year! Welcome to 2022, I'm sure many of you are pleased to see the back of 2021, but there were good days in amongst the sad ones. We were lucky enough to watch our youngest granddaughter grow into the active toddler she is today and my eldest daughter, her husband and two children finally managed to sell their small two bedroom flat in Newham with no garden (lockdown was a challenge!), and move to the sunny space of Suffolk. They maybe technically homeless at the moment (they are living with her husband's parents) but they love their new life and have just got their first dog.
I'm not a great one for new year's resolutions, but I do always check in and think about things I would like to change if I can. I love that every day gives you a new beginning, so one can keep on starting over, not just on 1st January. This year I would like to spend more time reading my bible. I've followed a 'read the bible in one year' programme for a few years now, which is great, but doesn't always give one the chance to look more deeply at some of the biblical mysteries. Our bible groups help with this as they look in more depth at various biblical books. This year I have also decided to read NT Wright's relatively new book – 'The Autobiography of Paul', his writings take up so much of the New Testament, so any chance to get to know his world better I feel is a good thing.
If you are looking to deepen your knowledge of the bible this year, do join one of our bible groups, the weekly one meets on Monday afternoons 3-5pm and the monthly one generally meets on a Monday evening at 7.30pm. just drop me an email and I'll forward it to the relevant people.
This week's services are as follows:
9.30am. Matins at Ockley
10.30am Family Communion at Capel
The answers to last weeks Christmas quiz are attached.
You will find the new copy of Inspire in our churches so do pick one up. This months issue has kindly been sponsored by Kindred Spirits who run the Pavilion Cafe in Ockley which is such a wonderful resource. Remember the cafe is open every Wednesday from 9.30am for coffee and cake. The last Wednesday of each month they also serve bacon butties!
This week we have two photos, the lovely Christmas scene at Ockley church, and the new front cover of Inspire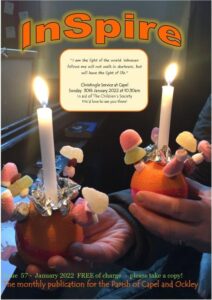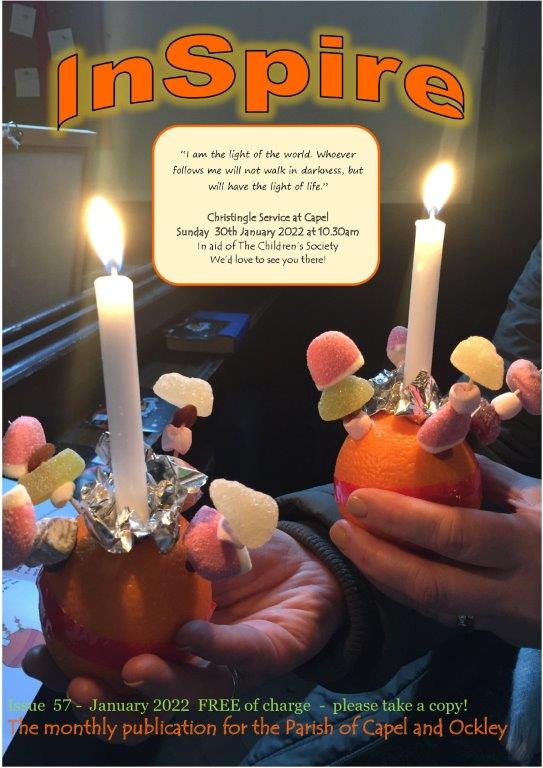 With love and prayers
Debbie von Bergen
debbievonbergen@icloud.com
07774 784008
Post expires at 3:08pm on Sunday January 1st, 2023