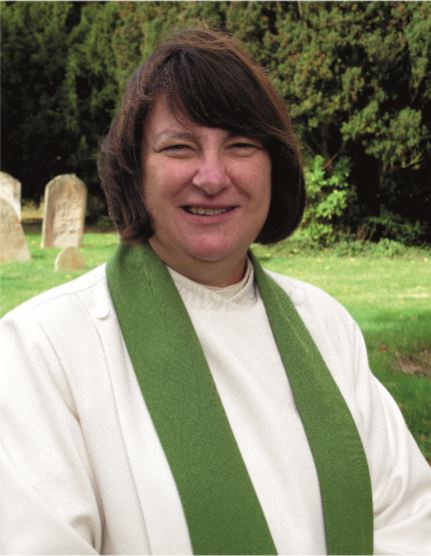 As I write this letter Doug and I are delighted to have become grandparents once again. We have a new little granddaughter just a couple of days old. Her parents are staying with us in Capel while their new house is being sorted out which means we are sharing in this wonderful new born phase of their first baby's young life. It has taken me right back to nearly 40 years ago when our first child was born in Kingston Hospital – to the 8 days or so spent in those big old fashioned wards when Sister ruled and babies went to nurseries at night! These days of course new parents are home very much sooner and things have no doubt changed for the better but one thing doesn't change – that it is such an overwhelming, vulnerable time for all concerned isn't it as not only is a child born but new parents are born as well. And then there is the baby who is completely dependant on their parent for absolutely everything…
This vulnerability we remember was the same for Jesus as a new born to his parents, teenager mother Mary and her husband Joseph. And how vulnerable they must have felt away from their home and in very temporary accommodation shared with the animals most probably. It was a vulnerability God called these two to embrace as he sent his Son to be born among us; to live among us; to be one of us, yet without sin although knowing and experiencing life as a human being. A mystery indeed yet it was a revelation foretold through scripture and continuing to be fulfilled as we worship and celebrate his coming into the world.
As this festive season approaches there are many different services and events planned in order to help you worship and celebrate throughout December. The month begins as usual with the decorating of the community organisation Christmas trees lining the path and front of our Capel Church and later the same day we regather for the grand switch on of the lights and an opportunity to sing some carols outside as usual. The lovely Crown Pub will be offering supper I know and then there is a wonderful concert to enjoy inside church as Green Matthews entertain us with some 'Midwinter Revels,' songs, tales and carols from yuletide past! A busy day indeed!
Then the following afternoon at St Margaret's Ockley we have the first of our annual Christingle services where we discover through the making of the Christingle Orange that Christ is the light of the world. All children are welcome of course whatever age you happen to be! We are all God's children…
Talking of children of all ages – on the following Saturday, over in Ockley on the Green, there will be more carols and a surprise visit from a bearded gentleman in a red costume riding on a sleigh. I wonder who that might be?! The next day if you fancy something a little bit different again why not come along on Sunday morning to our Christmas Cafe Church where we will enjoy more songs, carols, poems and laughter – again an opportunity for all the family to join in, courtesy of Bob and the Cafe Church Band. I can't wait! Later that day we have the last of the Capel teas for the season. I think there may well be some of Joy's famous Christmas puddings there too….
The Saturday before Christmas there is more carol singing to enjoy at Ockley Village Hall for the Ockley Cricket Club. If you have any more energy for carol singing the following evening we will be holding our traditional Nine Lessons and Carols at St John's Church Capel. A lovely prelude to Christmas Eve with our Crib service and Midnight Communion which begins at 11pm!! This means by 12 midnight we are singing Silent Night in candlelight and wishing one another the first "Happy Christmas!". Which leaves us with the great day itself where we join as our two churches to welcome the new born King at our Christmas Day service of worship and celebration at St Margaret's Ockley. Then for the first time in an age the following day is Boxing Day and we drop down a gear slightly as both our churches are able to offer you a traditional Matins at Ockley or a said service of Holy Communion at Capel – both services offering a time to quietly reflect on all the busyness of the lead up to Christmas, a sacred quiet time of space as the year draws to a close.
So there it is! Sounds exhausting but don't let it be so. As we reflect on the vulnerability of the Christ child remember how vulnerable we are especially at this busiest of seasonal times, when expectations can run high and pressure builds. We are vulnerable too of course as the pandemic continues so choose your services and events carefully; remember that we are watchful over helping to keep you safe. Christmas although a time to celebrate is a difficult time for many, particularly for the bereaved and lonely. Please know that we wish to pray for you and serve you as your parish churches in the best way we can. We will have the prayer trees inside both churches for you so that you can write down your hopes and dreams and prayers for whoever or whatever you feel so called. Place them on the tree and they will be prayed for throughout the month at our regular weekly services. I pray that during this month you may find peace amidst whatever and wherever you find yourself in your life and may I wish you a very happy Christmas and New Year. I pray too that you will realise that however vulnerable Jesus himself once was, like we all were once when we were newly born into this world, and as we still very much are, God is our heavenly parent and will see to our every need if we trust and depend on him.
With my love and prayers
Revd Liz
PS – look out for the appearance of the Holy Family who are planning to pitch up on the Vicarage Lawn again!
Post expires at 11:22am on Sunday November 20th, 2022