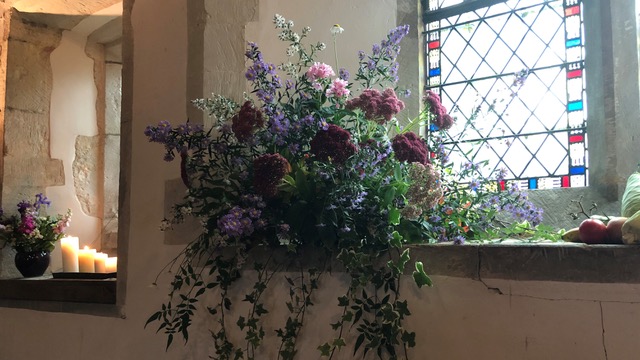 Dear Friends,
My goodness what a contrast to last week, the gales on Monday rampaged through the garden, taking with them many of the late flowering annuals that had been giving such a good display. Autumn has definitely arrived!
Another sign of Autumn is the Harvest Festival services, Ockley had theirs last week, I have attached a couple of photos of their decorations which look magnificent. This Sunday it is the turn of Capel, I have just been delivering to the church where everyone is hard at work creating a stunning array of flower arrangements so do please take a look even if you can't join us for our service at 10.30 tomorrow. There are also harvest teas in the church from 3-5, so join us for cake and tea and see the beautiful decorations.
Suzanne and Stuart Cole will be bringing their Traidcraft wares to church in Capel this week and to Ockley on 31 October when we shall be having a joint service at St Margaret's – the first in almost 2 years!
The October issues of InSpire are now in our churches, do pick up a copy and circulate it around your friends. The popularity of InSpire has grown, such that we are now having to print more copies to satisfy the demand. Would you be able to sponsor or part sponsor a month next year? In general each month's issue costs us £95.00 to print, with gift aid this reduces the cost of sponsorship to £82.50, but if we were able to get two sponsors for each month we could increase the print run further and so for a sponsorship of £50 for two people we would be reaching more of our community. Do let me know if you are interested.
Many of you were saddened to hear of Dick Girling's death last week, his daughter has written to say that his funeral will be on 15 October at 2.30pm at Fountain of Life church in Ashill, Norfolk. I attach a lovely picture that she also included, which was taken about 6 years ago.
Two items coming up for your diaries:
6,7 and 9 October Ockley dramatic Society are putting on 'Pass the Butler' at Ockley village hall. Ring 01306 868588 for tickets which are £10.
17 October 10.30am – instead of the normal service at Capel we will be having 'Songs of Praise'. Please put your favourite hymns on the list at the back of the church and Anthea will endeavour to play as many as possible.
Lastly, thank you to everyone who has offered to help at the Christmas Fair 20 November 12-4 – more helpers are always welcome even if you only have an hour to spare. We are also looking for raffle prizes to go into hampers on the following themes: culinary, gardening, wine and food, and pampering.
With love and prayers
Debbie von Bergen
debbievonbergen@icloud.com
07774 784008
Post expires at 3:34pm on Sunday October 2nd, 2022