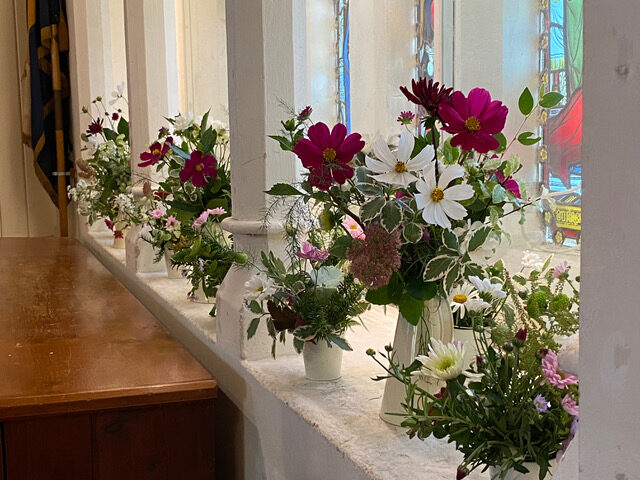 Dear Friends,
What a glorious day for a wedding, the sun is out and the church at Capel looks amazing. Congratulations to Corinne and Michael who are 'tying the knot' early this afternoon. The flower arranging team at Capel have done an outstanding job, not only with the normal decorations but the stairs leading to the bell tower as well. For those who don't know, Corinne and Michael are both bell ringers and will ring the bells at their wedding! A huge thank you to Joy Harman, Helen Berry and Betty Mitchell for such a beautiful display. Do go and have a look even if you can't make it to our service tomorrow morning. Today's photo is just one of many I took this morning.
Harvest Festival will soon be upon us. This year St Margaret's will celebrate it next Sunday with a service at 9.30am followed by a ploughman's lunch at 12 noon. There is no need to bring anything all food will be supplied, but please let Shirley know if you are coming so that she has an idea of numbers. Her phone number is: 01403 822967
Capel's harvest festival will be a week later on the 3 October. The service will be at 10.30 and Harvest teas will be served from 3-5pm.
In both cases the collection will go to Compassion UK for their appeal for Haiti. Food donations will go to Dorking Foodbank who have produced a list of items they would like. This was given out with the weekly sheets last week but I have attached it again to this email and there are a few fliers left in each church.
Thank you to the select few who walked the Rotary club walk last weekend to raise some money for our churches. The four who walked were: Buzz Warner, Dineke van den Bogard and Debbie and Hugh von Bergen. If anyone would like to do retrospective sponsorship, your donations would be most welcome!
Our services tomorrow are as follows:
9.30am Morning worship with baptism at Ockley
10.30am Family communion at Capel
We would like to extend a warm welcome to David Grant who will be preaching at Capel this week.
Please don't forget that you can sign up to see the Archbishop of Canterbury at Dorking Halls next Saturday at 11.30. The link is here:
www.eventbrite.co.uk/e/big-questions-with-the-archbishop-of-canterbury-dorking-tickets-162238043355
17 October Songs of praise service 10.30am at Capel: Please write your choice of hymn down on the sheet at the back of the church. Anthea can't promise to do all of them, but she will try!
Lastly, whilst Capel Church was being cleaned yesterday a gentleman's signet ring was found. It has no crest or name on it, but if you know who it might belong to please contact Rev Liz or Joy Harman.
With Love and prayers
Debbie von Bergen
debbievonbergen@icloud.com
07774 784008
Post expires at 6:17am on Thursday September 22nd, 2022