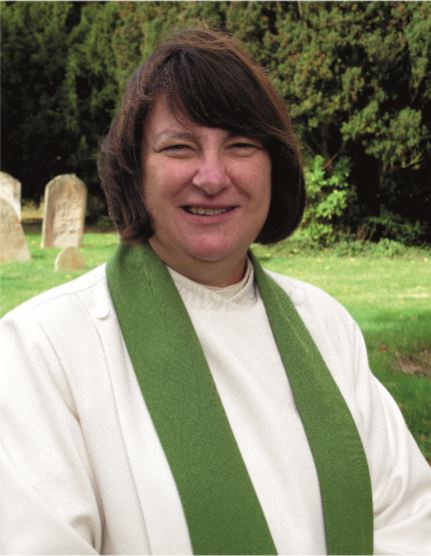 We're back! It is wonderful to be back in our churches for our Sunday services. We returned just before Palm Sunday and it was a joy to be together again and prepare for Holy Week and Easter. We also found we were allowed to have a few voices singing so choir is back as well. So all in all, we were able to reflect on our Lord's passion culminating in two services on Good Friday and celebrate his rising on Easter Sunday. Hallelujah! Since then of course non essential shops and businesses have reopened, many of you have been able to have a hair cut – I'm still waiting for mine(!) – and we can now meet outside albeit in groups of up to six and enjoy the hospitality offered to us by our lovely team in the garden at The Crown. Here's hoping the weather is kind to us all after an initial snowfall at the start of this week!
However, it is with great sadness I know that we received the news that the Duke of Edinburgh, Prince Philip had died. Of course we were all expecting this must happen sometime soon but as always death always seems to take us by surprise however much we think we are prepared for it. Our thoughts and prayers are with the Queen and royal family as they continue to mourn his loss and it is a comfort to see how they are planning to support and gather around Her Majesty. At both our churches, services were held on the Sundays following his death to remember and commemorate the Prince. Muffled bells were rung at certain times and it was comforting too to hear our church bells being rung once more even though it was for a sad reason. I think we have all been fascinated to hear about Prince Philip's early life and the remarkable events thereof. We know how loyal he has been to the Queen as her 'strength and stay', but fascinating too to hear more about his many interests and talents which have not only captivated him but changed many others lives, most notably of course the Duke of Edinburgh Award Scheme. We would like to remember and celebrate his life later on in the summer with a special commemorative service which we hope you the community would be able to attend and sing at! Please do let me know if you or your organisation would like to be involved, a bit like Remembrance Sunday but not as solemn. We would provide a professionally printed Order of Service so that Capel and Ockley would have their own keepsake of Prince Philip. Also, if you have ever met the Prince and might be willing to share that experience with us that would be really interesting.
So May is here, 'sumer is icumen in' as the medieval folk song goes and it is with great pleasure we invite you to visit St John's at Capel for a cup of tea and a piece of cake once more. This event is going to be held outside in the church grounds and is planned to raise funds for the charity Tree Aid which provides trees to be planted as part of the Great Green Wall in Africa. It is on Saturday 8th May from 3pm so hope to see you there!
Did you know that there is a change coming in regarding the registration of marriages on the 4th of this month? Clergy will no longer be able to perform the administrative task of registering marriages, issuing certificates and so on. This is in line with the government's intention by the then Prime Minister David Cameron in 2014 to address the issue of the inclusion of the mother's name in the marriage entry. It will also mean that a step parent's name may be added to a marriage registration where requested. The old terminology of the father's profession or rank will also disappear with simply 'occupation' instead. I think I will miss the old registers and the filling in as part of the ceremony with the handing over of a copy of the certificate to the couple on completing their vows, but I can see that it allows much more flexibility for the gathering of information for record keeping and an opportunity for couples to acknowledge important step parents as well as birth parents where applicable and women are included!! This is all about administration and doesn't affect the legality and sanctity of the marriage service in churches. It is the public exchanging of vows proclamation of the officiant which makes it legal. It is fascinating to looking back at how records began, when it seemed that marriage records before 1754 contained simply the names of the bride and groom and the date of the marriage. Some very early registers in the 1500s simply contain entries like "John Smith married his wife". Then from 1754 to 1837 new legislation was passed which stated that everyone had to marry in a licensed parish church in their own parish. This gave a bit more information about names, dates, signatures, clergyman's signature and witnesses. From 1837 marriage records were then kept by the General Register Office of England and Wales. These records have been kept by law since 1837 detailing every birth, marriage and death recorded since that date. So this is the first time since then that legislation has changed! So what does that mean now in our church weddings for the bride and groom and me?! Well I will be giving a couple something called a marriage document which will be completed beforehand and signed by us all including witnesses at the ceremony. Then it will be my responsibility to register the marriage online and the local register office will send the newly married couple their certificate in a new portrait layout. We now have to close all our old marriage registers and send them back to the local register office. We are allowed to keep one as we always do (there are two copies of marriage registers signed on the day) so historical records will still be available. For future marriages the church will keep its own marriage record or register but we haven't yet seen what this will look like. One of the reasons for change as well I think is the illegible writing sometimes in the register books, especially of witness signatures. That reason doesn't apply to me of course!!
I shall look forward to trying all of this out shortly.
In this merry month of May which will include more theological mysteries than any other month in the year, with the Ascension, Pentecost and Trinity Sunday we look forward to continuing our worship in person as well as online for those who still are unable to be with us. The online services are posted later on in the day on a Sunday as we record one of the morning services. Do remember to visit our website capelandockleychurch.org.uk.
for the latest news and updates including our own InSpire magazine which you can download or sign up to receive each month; copies are available in our churches each month also. Another good way of finding out what we are up to is to sign up for our weekly emails by contacting Debbie von Bergen on debbievonbergen@icloud.com.
As we celebrate at Pentecost the birth of the church with the coming of the Holy Spirit giving life, inspiration and strength to those who believe in Christ, I pray that you similarly may know his risen and ascended life as we continue our journey out of lockdown into a new chapter of our lives.
With my love and prayers
Liz
Post expires at 9:15pm on Friday May 6th, 2022