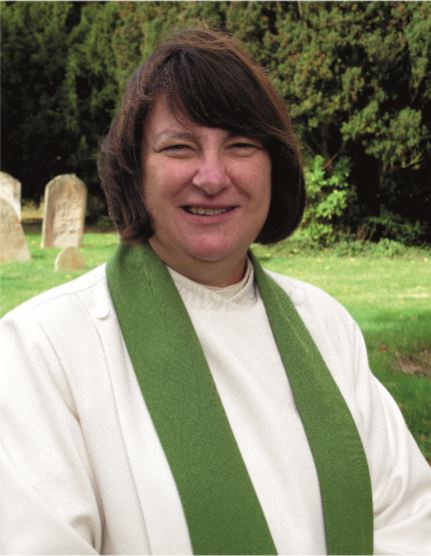 So, how are you getting on?  We are reaching the point where some restrictions will be lifted with the good news that infection numbers are going down along with deaths from the virus.  That as well as the excellent news that the numbers are going up rapidly of those who have been vaccinated. It's been a hard old month hasn't it with all sorts of weather thrown at us for good measure.  With the weather in mind I was amused to see that there is now such a thing as Muddy Church!  We have had Messy Church, Café Church, but now there is Muddy Church too.  Very appropriate for those of us who have been sliding about in mud on country walks with or without dogs I thought. Anyway, Muddy Church is all about taking church outside, helping people to connect with their environment and those around them and basically enjoying creation, nature and being together.  Just what we like doing in Capel and Ockley isn't it?!  If only we could be connecting a bit more I hear you say and is this not just another churchy thing? Well Muddy Church is not just for Church goers but offers a space where everyone can come together regardless of age, friends can meet up, those alone can walk with others and people are invited to share their questions and lives.  It is based around the idea that everyone brings something and offers places for listening and sharing, acceptance and wondering and its about being open to the idea that God is present in all our lives and in all creation.  This of course fits in very well with our Lent Course 'Creation Matters' which is currently happening on Monday evenings at 7pm.  Do contact us if you would like to join via zoom.  Each session can stand alone so do as much or as little as you like.  We are also hoping to record the sessions so you can watch later at your convenience.  
You can find out more about Muddy Church on www.muddychurch.co.uk and there are lots of lovely resources to find there.  There are a couple I really like; one is called 40 moments which links with the season of Lent encouraging us to take some time to enjoy doing all sorts of things from jumping in puddles (!) to clearing out clutter or making a bird feeder.  So if I see people jumping in puddles especially those of us who are old enough to be vaccinated I will know you are joining in!  The other one which looks really good is called '40 Bags' which involves each day giving a bag to bless someone or fill a bag to recycle.  It can be a bag of any size, a bag of sweets or fruit to share with someone or a bag for recycling.  I think all of these ideas can be done keeping to current restrictions on socialising and exercise.  Let us know how you get on?  
Finally Muddy Church is doing something called 'Heart Bombing' which is all about love.  Yes I know we have already had Valentine's Day but love is not just about one day a year is it?  This year above all we all need to know love and be loved.  We can do that in lots of different ways and our communities are brilliant at this already but to keep us going a bit longer through the lockdown we could do an extra something to show someone they are loved.  Muddy Church suggests putting hearts on windows, making hearts which can hang on trees and all sorts. Can you think of some ideas in which we can show people love and spread the love around our neighbourhood?!  
Well by the time you are reading this we will hopefully have been given a 'roadmap' by the government as to how and when restrictions will be lifted.  Once more I am sure we are all so grateful for our local businesses and health services for keeping us going in so many ways throughout this pandemic apart from the massive sacrifices that they and all front line NHS staff have given in order to help and serve others.  This Lent we have another opportunity to draw closer to God and you will find inside church lots of things to help you.  You will of course find first and foremost peace and quiet in our ancient places of worship whose sacred walls resound with the prayers of many over hundreds of years.  Do pop in and just sit or stand and let this amazing space just sink in… If you would like a bit of reading material or ideas for reflection there are free booklets produced by the Church of England called 'LIVELENT – God's Story, Our Story'. There are also some Lent bags too while stocks last which include the above booklet, another booklet about Easter and a couple of little treats!  The thing is as I always say Lent is not about necessarily giving things up or denying ourselves but it is more about finding ourselves.  We can do that through spending time inside or outside which brings us back full circle to what Muddy Church promotes, drawing closer to God in so many different ways.  As Jesus entered the wilderness for those 40 days, he did not go alone but he went with his heavenly Father and was waited on by angels.  I pray during these 40 days before Easter that you may also be attended by angels and that you will, despite whatever challenges you are facing at the moment, know the healing presence of God the Father and know that you are deeply loved by Him!
With my love and prayers as always
Vicar of St John the Baptist Capel and St Margaret's Ockley
Post expires at 7:22am on Wednesday March 30th, 2022