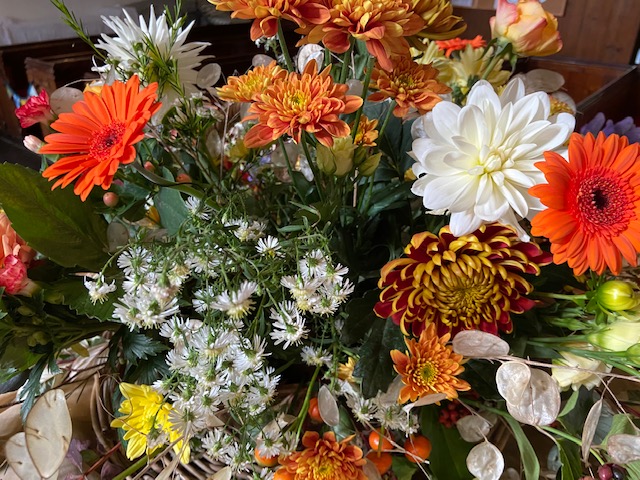 Dear friends,
Please find attached the weekly sheets for this Sunday, 18th after
Trinity and our Harvest festival.  Also attached is a sermon provided by
the diocese for transforming generosity.  It is attached in two formats
in case you prefer one to the other!
I have just been in St John's to leave the paper news sheets for Sunday
and below are some photos of what greeted me!  Our wonderful team of
flower arrangers has been very busy indeed and it is a sight to behold!
Don't forget to pop in and see it if you can't make the service and you
can leave any harvest donations by the altar – thank you.
Also, a little reminder that the new InSpire is available at each church
together with copies of the new Traidcraft Autumn/Winter brochure.  In
the meantime, I hope you enjoy the harvest prayer below and just a few
of the many photos I took of the decorations in church just now!
With my best wishes and prayers,
Suzanne
Suzanne Cole 07923 517202
*A prayer for Harvest*
We bless you, God of Seed and Harvest,
And we bless each other,
That the beauty of this world,
And the love that created it,
Might be expressed though our lives
And be a blessing to others,
Now and always
Amen
Post expires at 6:48am on Monday October 11th, 2021