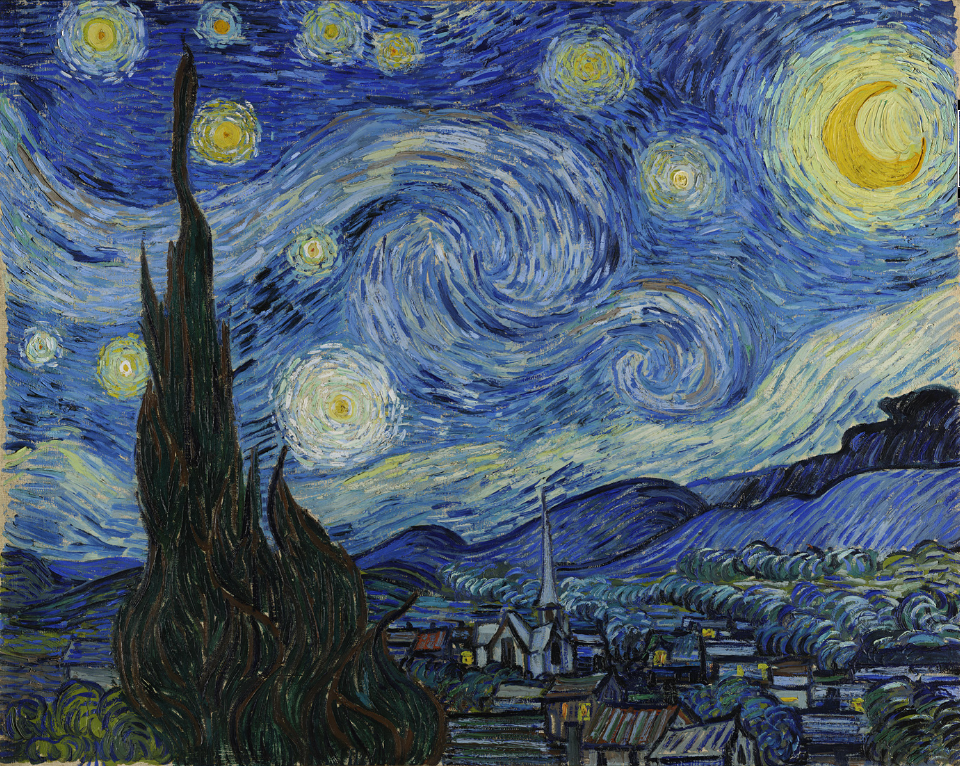 Dear all
I love Van Gogh's painting 'Starry Night'! As I look and think about it I can hear Don McLean's haunting lyrics of 'Vincent (Starry, Starry Night)', written about the artist's life and struggles with mental illness and his struggle and passion as a painter. Apparently he only sold one painting in his lifetime. Simply amazing that now he is hailed as one of the most important post- impressionist painters! The painting was inspired by the view from his asylum room whilst recovering from a breakdown. Amazing too that during his time there he produced some of his most important paintings. We have a good view of the sky out here in our dark villages sometimes don't we? When you look up at the sky on a clear night and truly see the heavens they are inspiring aren't they. In fact Vincent Van Gogh is quoted as saying: 'When I have a terrible need of – shall I say the word – religion. Then I go out and paint the stars'. I like it!
Stars of course feature powerfully in the birth of Christ and the journey of the Magi in the telling of the story of Christmas. Always such a poignant conclusion to the Christmas events, these days the magi don't travel very far at all, just from one side of the church to another! Picking up the theme of the faithfulness of the Magi and the following of the star which brought them to Bethlehem as they journeyed searching for this new born King, the Church of England have once again produced another 'Follow the Star booklet – 12 Days of Christmas Wonder.' A lovely little resource, the booklet gives us 12 daily reflections based on that favourite Christmas Carol 'We three kings'. It begins on Christmas Day. Copies of this booklet will be available inside our churches at Capel and Ockley and we will handing them out to all who join us at our Christmas Services this year. I do hope you will join me in using these reflections as the journey begins with a star and ends with discovery!
As you will see on our Church services and events page there is lot to enjoy and be a part of once again this December. From Advent Sunday right at the beginning of the month I think we have anything and everything to help us prepare for and celebrate the festive season of Christmas and the New Year. Whether you like an early morning said Prayerbook Communion service, a traditional Matins or family holy communion with organist and choir or the more contemporary informal setting of Cafe Church and the band, there is something for everyone in the weeks ahead. There's Christmas Messy Church, a new Christingle event at the pavilion in Ockley, (not to be confused with our Christingle service in Capel at the beginning of February), an opportunity to dress up as an angel or shepherd even in our annual nativity service when our lovely donkeys come into church. There are loads of opportunities to sing carols whether outside when the Christmas tree lights are switched on in both villages, or inside at Capel Choral Society events at St Margaret's and St John's with a cup of tea thrown in, or our traditional 9 Lessons and Carols just before Christmas; we hope you will join us. Christmas itself truly begins at the crib service on Christmas Eve followed by 11pm Holy Communion, the first communion of Christmas. Christmas Day offers a choice of early Holy Communion at Capel and then this year we are all going to worship together later on Christmas morning at St Margaret's Ockley. There will be Holy Communion as part of the service but with our usual mix of the sacred and sometimes simply silly – in true Christmas style. Finally when you are fed up with Christmas fare why not join Bob and the Band at the Crown on Sunday 29th December for a special Cafe Church at 10.45am?!
We will be collecting gifts as usual to send to Christ Church in Brixton, for adults and children. Please label clearly for age and gender if appropriate. We will shortly be preparing hampers for those locally in great need and of course there are the collecting boxes in church for Leatherhead Start and Dorking Foodbank. Phew – it's exhausting isn't it – but great fun! So as well as all these opportunities to share and celebrate with one another, the whole point is that within all of these events there will be time for us all to reflect on what it is all about and as I began I encourage you to take a booklet and 'follow the star' into the new year and beyond. In the words of the opening prayer in Follow the Star:
God of wonder,
as we follow the star,
open our minds
to search for you,
open our eyes to see you,
and open our hearts
to receive your love,
this Christmas and always.
Amen.
Happy Christmas!
With my love and prayers as ever
Revd Liz
Post expires at 7:13am on Friday December 11th, 2020